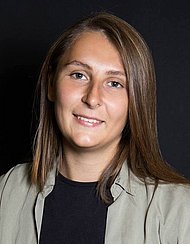 Anna Ivanova, M.A.
Contact
Doctoral Project
Decommunization in the Urban Space of Ukraine: Discourses, Identities and Symbols
Since the collapse of the Soviet Union in 1991, Ukraine has embarked on a process of decommunization which intensified in 2014 during the Euromaidan and experienced another wave of revival in 2022 after the outbreak of the war. The political authorities officially launched decommunization in 2015 as a project to unify the country. However, the polar implementations, perceptions and reactions were captured in the Eastern and Western regions of the country, which are often considered as opposite sides of a large regionally-specific cleavage of Ukrainian society. Decommunization affected many spheres of public life. One of the major transformations happened to the urban space.

By focusing on the urban space transformation as the research object, the study aims to explore how decommunization is designed by the state's authorities, implemented by cities' administrations and perceived by local communities. The research aims to answer the following question: How does the process of urban decommunization participate in the re/production of dis/integration of Ukrainian society on different sides of the long-standing cleavage between the West and the East of the country? Additionally, it aims to answer: How is decommunization embodied in the city? What discourses, identities and symbols are being transformed? What is the historical dynamics of this discursive change? How does decommunization differ in its central prescription and local implementation? How does decommunization differ in the cities located in the East and the West?

On examples of two cities (Kharkiv and Lviv), the study compares how the process of decommunization developed on the opposite sides of the East-West cleavage throughout three provisional waves of decommunization: 1991-early 2000s, 2014-2020, and 2022-ongoing. The research is designed as a comparative case study, which focuses on three levels of the decommunization process: central (state decrees on the implementation of decommunization), administrative (actions of local authorities), and local (perceptions and reactions of the local community). Special attention is paid to three aspects of urban decommunization: the renaming of toponyms, the transformation of monuments and places of memory, and a city as a space of discursive struggle.

The research applies the following methods: analysis of the official documents, statements and publications; discourse and frame analysis of the places of memory; social media analysis; "walking in the city" (de Certeau). Therefore, it combines digital ethnography with fieldwork in Kharkiv and Lviv.
Curriculum Vitae
Anna Ivanova earned her BA and MA degree in Sociology at the V.N.Karazin Kharkov National University, Ukraine, and another MA degree in Political Science at Goethe University, Frankfurt am Main. Her research interest during her Bachelor's and Master's studies was the analysis of the Ukrainian political discourse with the focus on how the narratives of declared unity actually radicalized all aspects of Ukrainian society. Since September 2022, Anna has been a Predoctoral Researcher at the Graduate School for East and Southeast European Studies in Regensburg.
Publications
back