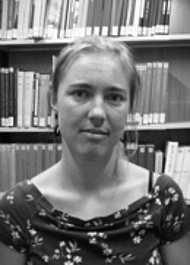 Dr. Lucie Dušková
Visiting Fellow 2017/18
Contact
Profile
Lucie Dušková is a PhD candidate at the Institute of Economic and Social History at the Charles University in Prague. Her dissertation deals with the topic of the representations and practices of the night in post war Czechoslovakia.
From October 2018 to September 2019, she has been staying as a Stipendary Fellow of the Bavarian Academic Center for Central, Eastern and Southeastern Europe (BAYHOST) at the Universität Regensburg. During this stay she will collaborate closely with the members of the Graduate School.
From October 2017 to Juni 2018, Dušková already stayed in Regensburg with a stipend from the Deutsch-Tschechische Zukunftsfonds.
Fellowships
BAYHOST Stipendiary Fellow in Regensburg, October 2018 − September 2019
Stipendiary Fellowship of the Deutsch-Tschechische Zukunftsfonds in Regensburg, October 2017 − June 2018
back