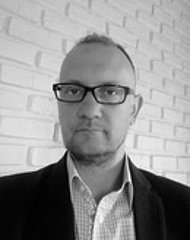 Dr. habil. Mikołaj Szoltysek
Honorary Research Associate
Visiting Fellow 2017
Contact
Profile
Dr. habil. Mikołaj Szołtysek was Visiting Research Fellow of the Graduate School in Regensburg November 2-30, 2017. Since that time he is our Honorary Research Associate. Szoltysek was Senior Researcher of the Max Planck Institute for Social Anthropology's Department 'Resilience and Transformation in Eurasia' in Halle (Saale) between 2014 and 2017. Earlier he was Deputy Head of the Historical Demography Working Group at the Max Planck Institute for Demographic Research in Rostock. Since January 2018 he holds a Marie Curie Fellowship at the University of Warsaw.
With "Mosaic", Szołtysek co-founded one of the largest data infrastructure projects in the field of historical demography, helping to study historical family structures in Europe. During his stay at the Graduate School in Regensburg in November, the historian will devote his new research project to historical family structures. On Monday, November 20, 2017 Szoltysek will present his project in a session of the lecture series "Forum".
Fellowship
Visiting Fellow at the Graduate School in Regensburg, November 2017
Publications (selected)
Monographs
Rethinking East-Central Europe: family systems and co-residence in the Polish-Lithuanian Commonwealth. Berlin u.a. 2015.
Journal Articles and Book Chapters
Residence patterns and the human-ecological setting in historical Eastern Europe: a challenge of compositional (re)analysis. In: Kreager, P. / Winney, B. / Ulijaszek, S. / Capelli, C. (eds.): Population in the human sciences: concepts, models, evidence. Oxford 2015, pp. 431-468.
Patriarchy and feudalism in time and space: the comparative study of co-residence across Eurasia. In: Cash, J. R. (ed.): Resilience and Transformation in Eurasia: 1999-2014. Halle/S. 2014, pp. 71-74.
back