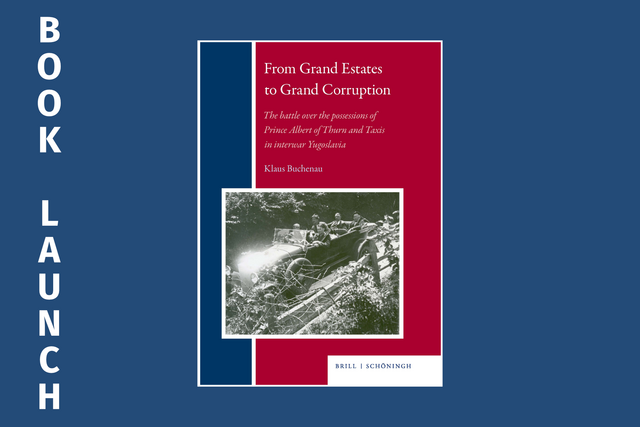 BOOK LAUNCH | From Grand Estates to Grand Corruption: The Battle over the Possessions of Prince Albert of Thurn and Taxis in Interwar Yugoslavia
Klaus Buchenau (Regensburg)
Beginning:

Wednesday, 31 January 2024 19:00
Am 31. Januar 2024 stellt Klaus Buchenau (Regensburg) sein neues Buch "From Grand Estates to Grand Corruption: The Battle over the Possessions of Prince Albert of Thurn and Taxis in Interwar Yugoslavia" vor. Moderiert wird diese Veranstaltung von Luminata Gatejel (Regensburg). Der Vortrag findet in deutscher Sprache unter dem Titel "Wald, Gewalt und Geld. Der Kampf um Güter des Hauses Thurn und Taxis in Kroatien, 1919-1945" statt.
Abstract:
Als Jugoslawien 1918 gegründet wurde, besaßen adlige Grundbesitzer noch große Teile des Landes. Dies galt vor allem für die nordwestliche Hälfte des Staates, die früher zur Habsburgermonarchie gehört hatte. Mit rund 38.000 Hektar war Fürst Albert von Thurn und Taxis der größte private Waldbesitzer des neuen Königreichs. Jugoslawische Politiker forderten eine Enteignung, die als Herstellung sozialer und historischer Gerechtigkeit gerechtfertigt wurde. Gleichzeitig versuchten politische und wirtschaftliche Netzwerke, den Besitz in ihre eigenen Taschen zu lenken. Die beteiligten Seiten - Thurn und Taxis, jugoslawische Beamte, nationale und internationale Unternehmen - kämpften mit verschiedenen Mitteln für ihre Interessen, von Gerichtsverfahren über internationale Arbitrage bis hin zu politischem Lobbyismus. Dieses Buch destilliert aus diesen Methoden eine "Grammatik der Korruption" im Holzgeschäft der Zwischenkriegszeit. Für mehr Informationen siehe hier
Klaus Buchenau:
Er ist Professor für Geschichte Südost- und Osteuropas an der Universität Regensburg. Zu Beginn seiner akademischen Laufbahn widmete er sich zunächst der Soziolinguistik, dann der Religionsgeschichte. Unter dem Eindruck der Finanzkrise seit 2008 erweiterte er seine Forschungsinteressen auf Ressourcenverteilung, staatliches Misstrauen und die Geschichte der Korruption.
Kooperation:
Ort:
Evangelisches Bildungswerk, Am Ölberg 2, 93047 Regensburg, Bonhoeffer-Saal
back