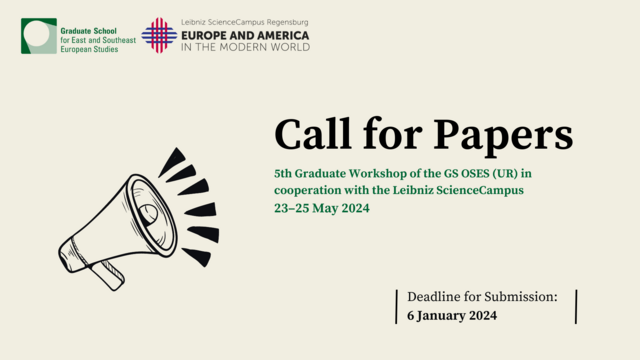 CfP: Change from Below: Mobility, Transformation, and Exchange across Europe
5th Graduate Workshop of the GS OSES at the University Regensburg in cooperation with the Leibniz ScienceCampus Europe and America in the Modern World
25 October 2023
Europe is a continent that is always changing, and mostly it is changed by people. People together with ideas, skills, objects, and customs have been crossing physical, political, and societal borders for centuries and transforming societies in all regions of the continent. However, for better understanding of mobility, transformation, and exchange to and from Europe, as well as within, it is necessary to include a broad view that does not only incorporate this continent and its peoples. Europe's place in global history transcends beyond the monolithic understanding of mobility in Europe. Mobilities between east, west, south and northern Europe as well as interlinkages within Europe and connections with the rest of the world are the focus of our workshop. It takes place in Regensburg from 23 to 25 May 2024.
We are looking forward to receiving papers on the following disciplines and topics:
microhistories of mobility of ideas, knowledge, religion, and beliefs
microhistories of migration
spatial, urban and rural transformation
mobility and gender, families, and labour structures
entanglement and interconnectedness, exploring productions and dissemination of ideas, knowledge, and skills across Europe and beyond
social versatility, discussing social transformation and mobility caused by reaction to discrimination, inequalities and vulnerabilities, government policies, and legal status
visual studies and documentation of mobility
PhD candidates and early career researchers from diverse academic backgrounds related to history, art history, cultural studies, political science, and sociology are invited to send in proposals of no more than 250 words to gsoses.conference@ur.de by 6 January 2024.
Your organising team,
Magdalena Daller, Tila de Almeida Mendonça, Fatos Hoxha, Yulia Pyankova, Jana Vinga Martinis, Sara Žerić
Please find the CfP file here.
back