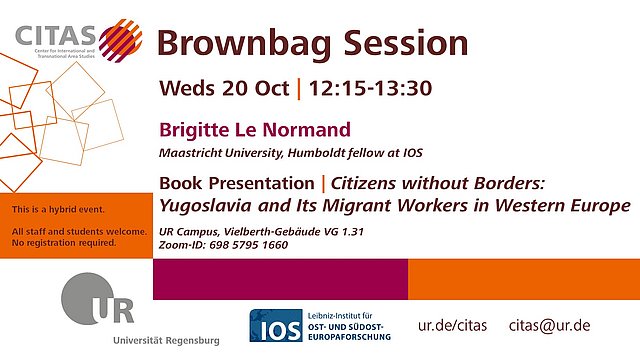 Citizens without Borders: Yugoslavia and its Migrant Workers in Western Europe (Hybrid)
Book launch by Brigitte LeNormand (Maastricht)
Beginning:

Wednesday, 20 October 2021 12:00
Together with CITAS we are welcoming Brigitte LeNormand (Maastricht) to launch her new book "Citizens without Borders: Yugoslavia and its migrant workers in Western Europe", published in April 2021.
Book description:
Among Eastern Europe's postwar socialist states, Yugoslavia was unique in allowing its citizens to seek work abroad in Western Europe's liberal democracies. This book charts the evolution of the relationship between Yugoslavia and its labour migrants who left to work in Western Europe in the 1960s and 1970s. It examines how migrants were perceived by policy-makers and social scientists and how they were portrayed in popular culture, including radio, newspapers, and cinema.
Read more here.
Brigitte Le Normand is an associate professor in the Department of History and Sociology at the University of British Columbia, Okanagan.
Venue:
University of Regensburg, room VG1.31, Universitätsstr. 31, 93053 Regensburg
oder online via Zoom (ID: 698 5795 1660).
Cooperation:
Center for International and Transnational Area Studies (CITAS)
back