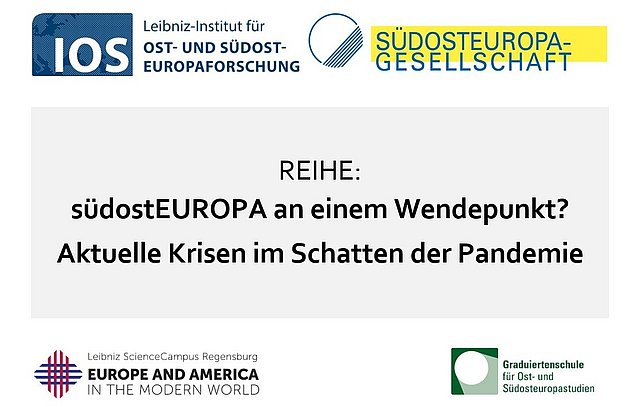 Die Unendliche Geschichte: Europäische Integration im westlichen Balkan
Florian Bieber (Graz)
Beginning:

Tuesday, 10 November 2020 16:00
Am 10. November 2020 begrüßen das Leibniz-Institut für Ost- und Südosteuropaforschung (IOS) und die Südosteuropa-Gesellschaft e.V. / Zweigstelle Regensburg Florian Bieber in ihrer Veranstaltungsreihe "südostEUROPA an einem Wendepunkt? Aktuelle Krisen im Schatten der Pandemie". Er wird einen Vortrag via ZOOM zum Thema "Die Unendliche Geschichte: Europäische Integration im westlichen Balkan" halten.
Person:
Prof. Dr. Florian Bieber, Leiter des Center for Southeast European Studies, Universität Graz
In Kooperation:
Graduiertenschule für Ost- und Südosteuropastudien (GS OSES), Leibniz-WissenschaftsCampus "Europe and America in the Modern World" (LWC).
Via Zoom (Meeting-ID: 978 8002 5944)
Die Übersicht zur Verantaltungsreihe finden sie hier.
back