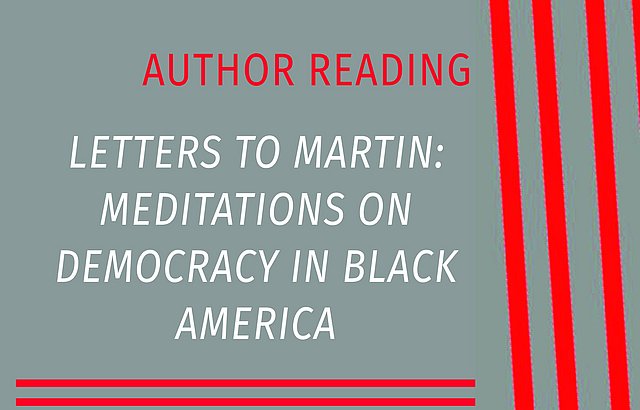 Letters to Martin: Meditations on Democracy in Black America
Author reading with Randal Maurice Jelks (Kansas)
Beginning:

Thursday, 19 January 2023 18:00
On 19 Januar 2023 we will welcome Randal Maurice Jelks together with the Leibniz ScienceCampus. He will give a reading from his latest book "Letters to Martin: Meditations on Democracy in Black America" (2022). The reading is part of the international and interdisciplinary workshop "Unfree Spaces in the Modern World: Resistant Responses—Empowering Acts", organised by Leibniz ScienceCampus.
Abstract:
"You'll find hope in these pages. " —Jonathan Eig, author of Ali: A Life Letters to Martin contains twelve meditations on contemporary political struggles for our oxygen-deprived society. Evoking Martin Luther King Jr.'s "Letter from Birmingham Jail," these meditations, written in the form of letters to King, speak specifically to the many public issues we presently confront in the United States—economic inequality, freedom of assembly, police brutality, ongoing social class conflicts, and geopolitics. Award-winning author Randal Maurice Jelks invites readers to reflect on US history by centering on questions of democracy that we must grapple with as a society. Hearkening to the era when James Baldwin, Dorothy Day, Reinhold Niebuhr, and Richard Wright used their writing to address the internal and external conflicts that the United States faced, this book is a contemporary revival of the literary tradition of meditative social analysis. These meditations on democracy provide spiritual oxygen to help readers endure the struggles of rebranding, rebuilding, and reforming our democratic institutions so that we can all breathe.
Chairs: RYE BITTL, NAOMI CLIETT (U of Regensburg)
Randal Maurice Jelks:
Randal Maurice Jelks is Professor of African and African American Studies and American Studies at the University of Kansas. Jelks is an award-winning author, as well as a documentary film producer. His writings have appeared in the Boston Review, the Los Angeles Review of Books as well as national blogs, journals, magazine and newspapers. Jelks's books are African Americans in the Furniture City: The Struggle for Civil Rights Struggle in Grand Rapids, Benjamin Elijah Mays, Schoolmaster of the Movement: A Biography, and Faith and Struggle in the Lives of Four African Americans: Ethel Waters, Mary Lou Williams, Eldridge Cleaver and Muhammad Ali. Jelks has recently contributed to a collection of essays titled 42 Today: Jack Robinson and His Legacy edited by Michael Long published by New York University Press. And his latest book is Letters to Martin: Meditations on Democracy in Black America.
Venue:
Landshuter Str. 4, 93047 Regensburg, room 319 (3rd floor) or via Zoom.
Organized by Leibniz ScienceCampus - this part of the workshop is a collaboration with GS OSESUR and the German-American Center/James-F.-Byrnes Institute (DAZ) in Stuttgart. Find the full programme of the workshop here.
back