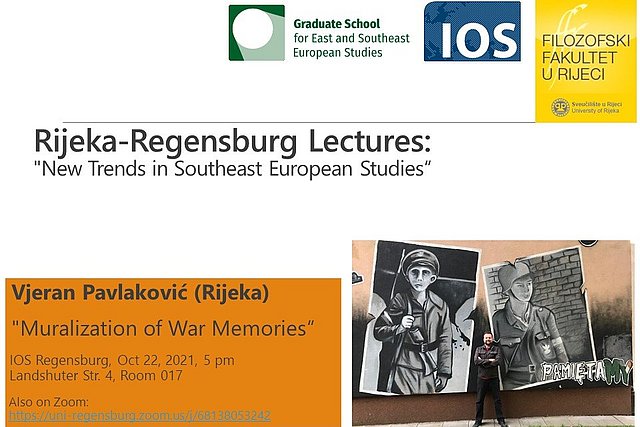 Muralization of War Memories. Croatia in Comparative Perspectives
Vjeran Pavlaković (U Rijeka)
Beginning:

Friday, 22 October 2021 17:00
On Friday, 22 October 2021 at 5 p.m. the IOS Regensburg, the University of Rijeka and the GS OSESUR invite to a lecture by Vjeran Pavlaković entitled "Muralization of War Memories. Croatia in Comparative Perspectives". The lecture is part of the Rijeka-Regensburg Lecture Series "New Trends in Southeast European Studies".
Venue:
IOS Regensburg, room 017, Landshuter Str. 4, 93047 Regensburg, also on Zoom (ID: 681 3805 3242)
Please, do not forget your masks and the 3G-prove.
Cooperation:
Leibniz Institute for East and Southeast European Studies (IOS Regensburg), Faculty of Humanities and Social Sciences/ University of Rijeka (FFRI)
back