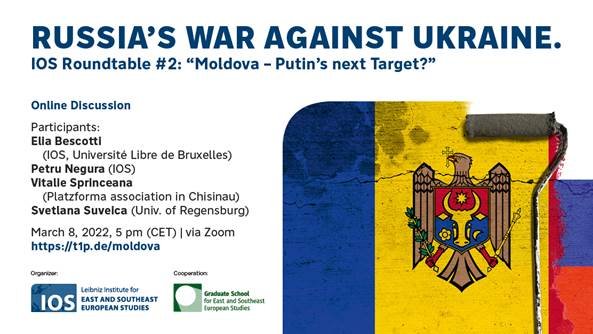 Online-Diskussionsrunde "Moldova – Putin's next Target?"
Die Veranstaltung diskutiert die Situation in und mögliche Gefahren für die Republik Moldau angesichts des russischen Angriffs auf die Ukraine.
Beginning:

Tuesday, 08 March 2022 17:00
Teilnehmer*innen:
Elia Bescotti (PhD Researcher, IOS Regensburg, Université Libre de Bruxelles)

Petru Negura (Humboldt Fellow at the IOS Regensburg)

Vitalie Sprinceana (Director, Platzforma association in Chisinau, Moldova)

Svetlana Suveica (Lecturer, Univ. of Regensburg)

Moderator: Ulf Brunnbauer (IOS Regensburg)
Die Veranstaltung ist Teil der Reihe "IOS-Gespräche zu Russlands Angriff auf die Ukraine" in Kooperation mit der Graduiertenschule für Ost- und Südosteuropastudien an der Universität Regensburg. Die Diskussion ist über die Plattform Zoom kostenlos zugänglich - weitere Informationen sowie Zugangsdaten siehe Link: https://t1p.de/moldova.
back