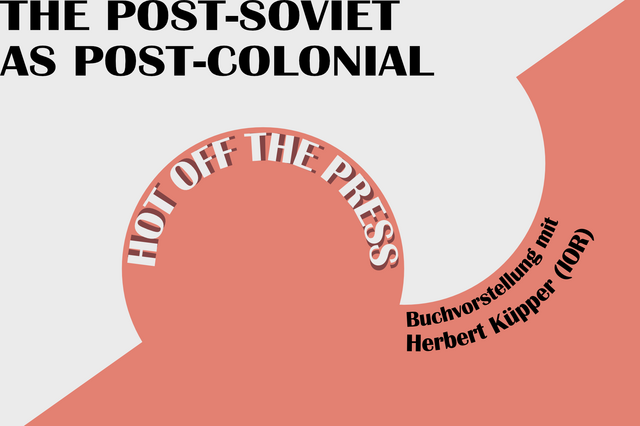 THE POST-SOVIET AS POST-COLONIAL. A New Paradigm for Understanding Constitutional Dynamics in the Former Soviet Empire
Herbert Küpper (Institute for East European Law, Regensburg)
Beginning:

Tuesday, 19 July 2022 17:30
On July 19th we will welcome Herbert Küppers (Regensburg) to our HOT OF THE PRESS series. He will present his new book "THE POST-SOVIET AS POST-COLONIAL. A New Paradigm for Understanding Constitutional Dynamics in the Former Soviet Empire" co-edited with William Partlett (Melbourne). The book launch will be held in German.
Abstract:
Warum bricht Russland unter Putin so eklatant das Völkerrecht und auch seine eigene Verfassung? Warum hat es in Zentralasien noch nicht einmal Ansätze einer Aufarbeitung der sowjetischen Zwangs- (und Fremd-) Herrschaft gegeben? Warum gleiten scheinbar weit vorangeschrittene Demokratien wie Polen oder Ungarn in illiberalen Autokratismus ab? Dieses Buch untersucht die postsozialistische Verfassungsentwicklung der Staaten des ehemaligen sowjetischen Imperiums seit der Wende mit dem Werkzeug der postkolonialen Verfassungstheorie. Hierbei zeigt sich, dass postkoloniale Interpretationsansätze die gängige postautoritäre Sichtweise nicht verdrängen, aber sinnvoll ergänzen können. Zugleich bereichert das Studium des postsowjetischen Raums auch die postkoloniale Verfassungstheorie mit neuartigen Fallstudien und Einsichten.
Further information can be found here.
Cooperation:
Leibniz Institute for East and Southeast European Studies Regensburg, Institute for East European Law, Regensburg, University of Regensburg
Venue:
back