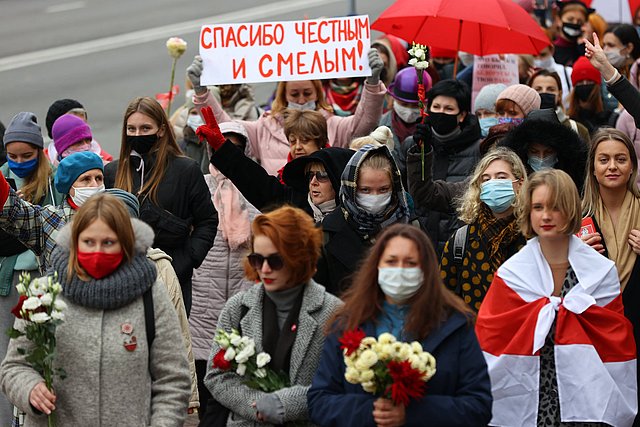 Women's Marches in Belarus: The Discourse of Resistance
Prof. Olena Nikolayenko (New York) is going to discuss her research on the discourse of resistance in an authoritarian regime. The event is going to be moderated by Fabian Burkhardt (IOS).
Beginning:

Tuesday, 14 December 2021 16:00
Abstract
Women played a prominent role in the 2020-post-election protests in Belarus. For several weeks, women in white marched the streets of Minsk, carrying flowers and protest signs, to protest against electoral malpractices and police violence. Based upon an original dataset of protest signs, this study examines the discourse of resistance in an authoritarian regime. The empirical analysis dissects how women articulate their critique of multiple forms of oppression and demand political change. This study seeks to advance our understanding of nonviolent resistance and women's activism in one of the most repressive political regimes in contemporary Europe.
Olena Nikolayenko
She is Professor of Political Science at Fordham University and a Simone Veil Fellow, Ludwig-Maximilians-Universität München. Her research interests include comparative democratization, contentious politics, women's activism, and youth, with a regional focus on Eastern Europe, Russia, and Central Asia. She is the author of two books (Citizens in the Making in Post-Soviet States and Youth Movements and Elections in Eastern Europe) and articles in Comparative Politics, International Journal of Sociology, International Political Science Review, Slavic Review, Social Movement Studies, and other journals. Her current research focuses on women's engagement in contentious politics.
This event is a collaboration between the Leibniz ScienceCampus, the Political Science Junior Research Group at IOS, and the Graduate School for East and Southeast European Studies in Regensburg.
Online via Zoom
Meeting ID: 696 0045 3664

Photo © IMAGO / ITAR-TASS
back