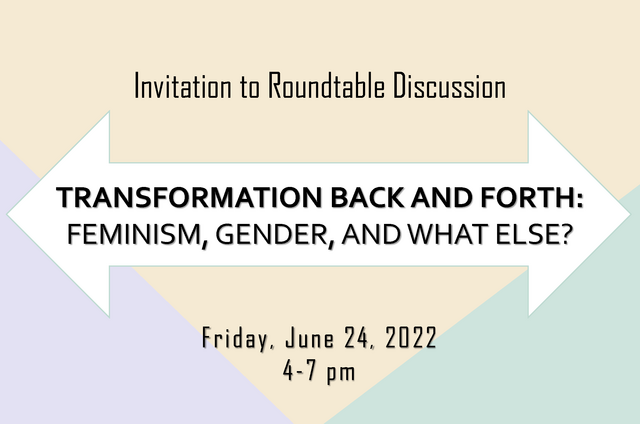 Transformation Back and Forth: Feminism, Gender, and what else?
Roundtable Discussion
Beginning:

Friday, 24 June 2022 16:00

End:

19:00
Abstract:
Recent discussions, trends, and performances on the topic of feminism and gender are met with a variety of responses, from support and applause, through misunderstandings, to puzzlement and even hatred. In recent decades, feminism as a political concept and gender as an analytical category have moved from the margins to the center of European and U.S. politics. What is this sign of? How has it come about? How are feminism and gender entangled with other seminal political and economic events and processes of political and social change?
This roundtable discussion explores these questions by re-examining the transformation from socialism to post-socialism in East-Central and Southeast Europe. It will address the pitfalls of Cold War biases as well as the content and directions of the exchange processes between regimes and regions from the 1980s until today. When conservative and national protagonists in East-Central and Southeast Europe suspect feminism is a Western import, what are they overlooking? How does this alienation work in the respective disputes? And, by contrast, what was and may still be wrong with Western feminists' ideas about the East?
Our roundtable event begins with two short presentations by international researchers, one focusing on East-Central and one on Southeast Europe. This will be followed by commentaries by another four panelists to speak on the presentations. Finally, we open the discussion both within the panel and to the wider audience.
Featured speakers:
Renata Mieńkowska-Norkiene (Warschau)
Zsófia Lóránd (Cambridge)
Eszter Kováts (Budapest)
Radmila Švaříčková Slabáková (Olmütz)
Jennifer Ramme (Frankfurt/Oder)
Julia Faisst (Regensburg)
Organized / sponsored by:
Leibniz ScienceCampus Regensburg Europe and America in the Modern World
Südosteuropa-Gesellschaft, Zweigstelle Regensburg
Graduate School for East and Southeast European Studies, University of Regensburg
Die Frauenbeauftragten der PKGG Fakultät, University of Regensburg
Responsible:
Anna Höcherl, Heike Karge, Natali Stegmann
back